Indians love exploring life beyond its known boundaries. When knowledge and imagination blend perfectly with wisdom the journey of spirituality can be begun. It is very essential to apply your logic, see the things in the context and understand the hidden message when reading scriptures or following rituals. And, it is applicable to almost every aspect of Dharma – which loosely can be translated into the "way of living" and is much more beyond its nearest match synonym (or considered as a synonym) – religion.
Expedition gives you time to explore the real world and the way how people actually live their lives. And, when you have courage and conviction to explore things like a nomad, you can explore the beauty of nature and witness many segments of the society which otherwise remain hidden. Travel enthusiasts and travel bloggers know these things quite well. So, mostly they plan their travels themselves, and rather than following pre-defined curated packages, they love exploring it quite differently.
The book "Madness Of The Monk" is a fantasy fiction blend with real-life travel experiences of Anuj Tikku – one of the known travel bloggers from India. The book is provided by him to read and review, and the review is unbiased by all means.
Book Title
:

Madness Of The Monk

Author
:

Anuj Tikku

Publisher
:

Self Publied

(15 January 2012 / 27 June 2017)
# of Pages
:
(14346 KB)

39

(Kindle EBook)
Purchase Link(s)
:
Let us take a look at the book cover.
Book Cover:
The book title (and the content as well) plays an important role in cover page design. Designing cover for a book which falls in wisdom arena is not an easy task. The word "Monk" in the book title makes a difference here though. A monk wearing a dark red or saffron rob is expected on the cover page, right? And you can see it on the cover obviously :). You can expect a natural scene or mostly the sky making an appearance from the highest peaks of a snow-clad mountain is also expected here.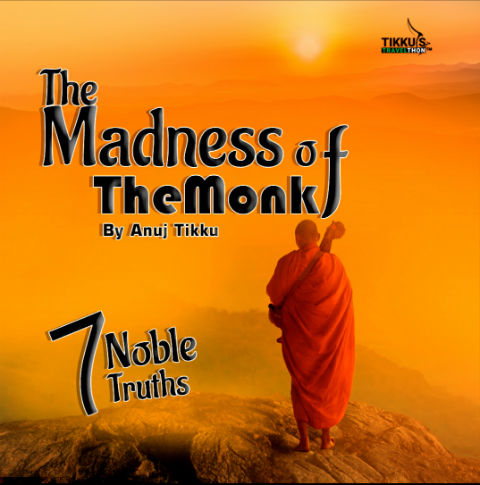 Now compare these imaginations with the cover page above and see how much you find it relevant to the book theme. I consider it a moderately good cover page.
What the books has to offer the reader?
Well, the book is a blend of a travelogue met with wisdom lessons. The author himself clarifies in the preface that it is a fictional story. It is, however, weaved with travel expeditions of the author to Himachal Pradesh, especially to Dharamshala. Dharamshala is a place known for many things. The most notable attribute of the place is the monastery there is the permanent official abode of Dalai Lama, the spiritual leader of Tibet. In addition to natural beauty, healthy environment, and other positive aspects, Dharamshala is also known for having the cricket stadium at the highest altitude where international matches are played.
The way the book talks about the people living in those high altitudes is really interesting. It presents the way of living with nature. It also tells that satisfaction is the key and you can remain happy even at the disposal of a limited number of resources. I found the mention of the availability of "South Indian food" at this place quite amusing. It not only proves that India – that is Bharat – is the true flag bearer or "unity in diversity" proverb. How otherwise you can find cuisine from the southern part of India available in extreme northern parts and that at such high altitude?! And, we are not talking about it being available at any five-star hotel or something like that. It is available at roadside stalls (if you can call them so) too. Of course, it is the love of the tourists/visitors of the place for a variety of food, creates demand for such cuisines and encourages the stall owners to make it available.
The book also talks about the health benefits of living in such places. While you can regain pieces of your mental and spiritual health which you may have lost in the fast life of the city which is full of hustle-bustle and depression; you will also become fitter physically too. That is the reason why you can find all these monks in quite a healthy frame. They need to walk a lot, and in addition, climbing up and down makes them utilize external calories as well.
Through the conversation with the monk, the author tries to link similarities in various religions and traditions. Ultimately, the truth is one but one can follow the path of his/her choice to achieve what he wants. The author has done good research also bring some interesting comparisons, like while in the popular Hindu tradition the body of the dead person is taken for cremation while in some religious tradition it was left at the nearest high place to be eaten by birds and other animals. The idea definitely reflects that these traditions are created based on many factors and geographical situations and practical aspects play a vital role in addition to spiritual beliefs.
In quite an amusing way, the author finds the mad monk following him and appears at most of the places surprisingly. It adds an interesting factor to the story.
In addition to wisdom lessons, the author, through the character of the Monk, conveys the importance of some real stuff too. For example, the importance of food. To achieve a spiritual goal even in after-life, you need to put in your efforts. And, the body is the only resource you have to do so. One needs to eat and drink and live in healthy situation to achieve his/her goals. So, while philosophy is good at its own place, we cannot run away from reality.
The book has some good photographs included.
Telling more than this will definitely lead to spoilers which I want to avoid as much as possible :).
What are the things the book miss?
The first thing first, proof-reading.
The book requires serious attention towards spelling and grammar errors. You can find more than one errors on almost every page. Having so many errors in just a 35 pages book is really bad. It definitely affects the reading experience. It is possible that a reader may stop reading the book just by reading the first few pages.
Even the protagonist, the Mad Monk, named Tenzing is named differently at many places (i.e. Ten Zing).
The book has misplaced apostrophe symbols (Eg: Tenzings, instead of Tenzing's – or – Purana's instead of Puranas). The punctual marks like comma (,) and full stops(.) are preceded by a blank space at most of the places.
Some autocorrections were done quite wrongly and that resulted in creating funny words or sentences.
The chapters could have been named to covey all the 7 messages the author want to convey. Also, the second chapter introduces us with the monk while in the first chapter the author has already shared a long experience with him! Possibly, the chapter order could have been done properly. Some chapter titles are not even in bold and they start in between pages.
Quotes and conversations from the book:
The book has some really interesting conversations. Some of them contain the essence of life and some talks about human qualities. At places, the author talks about the historical and political importance of various geographical situations as well. Let me share some of such interesting quotes from the book.
Yes you know a lot about a man from the way wears and maintains his shoes.
– – – – – – – – – – – – – – – – – – – – – – – – – – – – – –
"Yes you might see it that way but I see it very differently, a s see myself as a man mending broken soles and shoes , a man making sure you walk straight , and without any discomfort. I give people a path a direction I help them walk, I add so much I add so much. More to their lives. I give men a direction."
– – – – – – – – – – – – – – – – – – – – – – – – – – – – – –
You see to understand nature, we need to understand life and understand that we need to understand water, in rain you can really understand water.
– – – – – – – – – – – – – – – – – – – – – – – – – – – – – –
Relaxing happens when your mind is till, if you go into a Zen garden you will see it is built in such a way that your mind will relax , no tension nowhwere to go , that is when you feel in the real here and now .
– – – – – – – – – – – – – – – – – – – – – – – – – – – – – –
I could see how he made a point that Tibet then was a very strategic country, and if China had to dominate south East Asia it needed control of Tibet.
– – – – – – – – – – – – – – – – – – – – – – – – – – – – – –
The real laws one must follow are the ones of nature. Not of societies, groups or man, one should be in tune with the eternal laws of the cosmos the end sure existence . If we align the rules of our lives that way we can avoid pain and suffering as we will be able to build a better reference point for our lives.
Of course, the spelling/grammar errors make some of them really less effective. They are intended to convey a really important and interesting point of view otherwise.
Summary:
A book which tries to convey some important messages but a large number of spelling and grammar mistkaes come blocking its way.
ThinkerViews Rating:
Around 5 out of 10.
Quick Purchase Links:
Over To You:
If you already have read the book do share your remarks and thoughts via comments below. Does this review help you in making your decision to buy or read the book? Do not forget to share this article with your friends over various social networks via Twitter, Facebook and others. And yes, you may like to subscribe to our RSS feeds and follow us on various Social networks to get latest updates for the site to land right in your mail box.