The latest banking thriller by Ravi Subramanian – Don't Tell The Governor – was on our "to be read and reviewed" list since its announcement. Somehow it took more than expected time. Ultimately, from Team ThinkerViews, I got a chance to read it, and I am feeling delighted for this opportunity.
Ravi himself is a professional banker. So, he has a full-time day job. And, then also, he comes up with a new book at an interval of roughly one and a half years. And, he is not writing just for the sake of it, his books are usually inspired by the latest happenings in our surroundings. Here are our unbiased views and reviews for his previous books:
You may wonder that, how is he able to manage his day job and his passion for writing altogether! Well, in our of his FaceBook live chat, I've asked him the same question and he answered that "time management" is the key, and, I completely agree with him. He is also good at setting priorities, and that makes the things manageable. Also, in his free time, rather than gossiping or partying around, he rather prefers to devote time to his family and his passion – writing.
Book Title
:

Don't Tell The Governor

Author
:

Ravi Subramanian

Publisher
:

HarperCollins India

(26 October 2018)
# of Pages
:

312

(Paperback)
(1040 KB)

312

(Kindle EBook)
# of Chapters
:

76

Purchase Link(s)
:
Let us take a look at the cover page of "Don't Tell The Governor".
Book Cover:
Cover page, being a gateway to the fictional world explored within, plays a very important role in making the first impression of a book (and for that matter, any media). And thus, is responsible for many read and purchase decisions.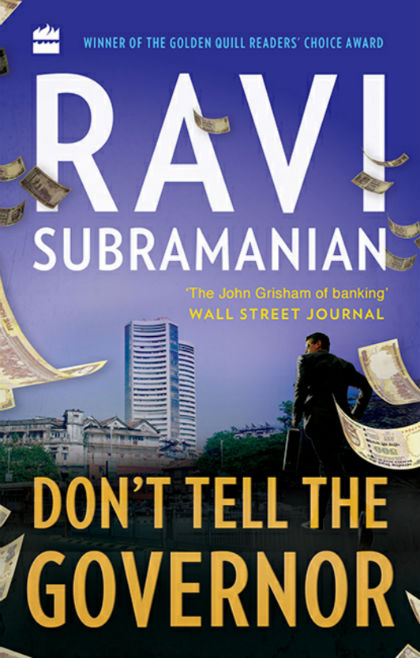 The cover page of this book, as you can see is quite impressive. Though it doesn't use cheerful colors, it sets up the environment of the financial world quite well. The purple-blue background blend with black and white colors; is impressive. Flying (or falling) currency notes of INR 500 is a metaphor for an important incident mentioned in the climax of the book. And yes, there skyscraper we see at a distance and the protagonist Aditya, the RBI governor is also seen going somewhere with his briefcase. So, the elements of the story are weaved quite nicely in the book cover. Overall, a book cover which will attract a potential reader and/or buyer towards the book, without a doubt.
The Storyline:
Let us take a bird's eye view of the plot.
Aditya is living his life as a professor. He is separated from his wife and is lonely. Like any other normal human being, he also desires a compatible companion. His knowledge in the field of finance is exceptional and he is respected for that.
A group of a few young fellows met with an accident. And, what is found in the car was something unexpected. The armed forces and Central Investigation agencies are called upon to look into the matter.
The Big Survivor – a reality(!) show is very popular and based on the racist comments by a fellow inmate, Pallavi, a yesteryear Indian actress won the show. Eventually, she came into contact with Vicky Malhotra, the sponsor. Vicky's personal life is not at its peak at the time and he and his wife were on the verge of divorce. Over the course of time, Vicky and Pallavi get together as Vicky is smitten by her beauty and Pallavi needs financial insurance for her life.
Government of India and Reserve Bank Of India, both are having their own interest and often what politicians do to please the mass (vote-bank – could be a better word) may not be seen as a wise step to take by the top-brass of RBI. Which leads to a conflict. And as you can guess, the RBI governor cannot change the government but its opposite can be done. Somehow, Aditya is picked as the next governor of RBI!
How all these threads meet each other and what happens at the end is better to explore by reading this book. You will meet Pallavi, Vicky Malhotra, Leslie James, Major Rajput, Biswaroop Datta, Sanat Rao, Balasubramanian Swamy, Anand Narasimhan, Danish Khosla, Carlo Pinotti, Harsha Ranjan, Mike Smith, and others. Of course, along with Aditya, the protagonist.
Views And Reviews:
Writing contemporary fiction is a tough thing. On one hand, a lot of raw material is available for your story, and on the other, you have to change names and perspectives in a way that you can disclaim the relation(s) to the real people/incidents.
A smart reader, however, can easily connect the dots. Here are some examples:
Harsha Ranjan is an RBI Governor whose way of working doesn't go in sync with the finance minister. The nationalist PM wants him to do certain things via FM, which the Governor of RBI, doesn't find appropriate for the economy from his perspective; and some of their disagreements came out in public. You can easily relate to the fact it is inspired from.
While the case of Mike Smith, the CEO of Le Da Spire may not rig bells. The character of Pallavi and Vicky and the author's source inspiration for both of them is too tough to miss :). Pallavi won a reality show name Big Survivor in London. She wasn't the most favorite contestant but the resist comments by a fellow white female contestant opened the doors for her. Being a yesteryear actress she knew how to milk this opportunity and she broke down on the screen to get the sympathy of the Indian community and diaspora. In Pallavi's own word:
Pallavi laughed. 'I must thank Leslie Jame for that.'. Leslie, an American architect and also a participant in Big Survivor, had hurled racist abuses at Pallavi on the show. Pallavi had ignored her and calmly tried to manage the situation…
Her meeting with Vicky and the way they got married and other incidents follow the trail of the same characters. And, it doesn't end there! They eventually buy an IPL Cricket team and there comes match-fixing scenario too. The Saree modeling case and its link to Gujarat, India; concretes the link. Pallavi's meeting with a politician for some favors in the trying time will let you link incidents where some other people are involved. Of course, it is a source of inspiration, and there are some imaginative incidents added there.
A political leader who is an expert economist who doesn't hold any portfolio in the current government and doesn't let go of a chance to take a potshot at the FM (despite belonging to the same party) can ring some bells, right? But, if that is not enough the character name is "Balasubramanian Swamy"! Do you think you need more hints?!
All in all, the characters and incidents will let you connect with some such events and incidents happened in real, and that is the USP of the book. "Suyog Gold", the scheme to let lower and middle class people invest a small amount of money on the regular bases in order to get a huge return at the end of the lock-in period; and many other such things are there in the book which are hard to miss.
The masterstroke, however, comes at the end. Yes, we are talking about the incident which literally shocked the economic system of the World's largest democracy. And, if that is not enough, you can also link up one of this "book-related event" and the first anniversary of that "real incident". Despite being the critic of that economy relate decision (and other many such decisions), the author remains unbiased when exploring "that incident" in the book, and explores the perspective of the government also. That shows the author's maturity.
The strength of the book lies in the realistic representation of the prime characters of the book. While the lifestyle and incidents they are involved can only be imagined by a regular reader, he/she will find the exploration convincing. At least, I found it so.
When the entertainment world is involved and so much money is at stake and the sport of cricket is involved, it is not easy to restrain exploring adulteries. The author elaborates such incidents here as well. But, he has avoided adult material and has limited the use of cuss-words to a large extent. I consider it as a positive attribute of the book. Another strong point of the book is – the exploration of advantage-based relations, where feelings took the backseat.
That was the moment the penny had dropped for Pallavi. Something always seemed to lead her to a position of disadvantage, from where she would invariably lose. She was determined that with Vicky Malhotra, it would be different. She didn't want to lose him.
He was her insurance.
As the author himself belongs to the world of banking, he knows the jargon and he also understands the fact that these things are not easy to understand for a layman. That's why he has infused some such explanation in plain words. Here is an example:
In simple terms, high interest rates lead to reduced inflation, but also slow economic growth. Low interest rates lead to growth in the economy, but also inflation. Growth and controlling inflation are often seen as two deliverables at diametrically opposite ends of the same lime.
The book has some punchlines which remain with you even after you complete reading it.
… And over time, practice becomes law, doesn't it?
— — — — — — — — — — — — — — — — — — — —
… the world is not about averages. It is about extremes.
— — — — — — — — — — — — — — — — — — — —
The problem with greed is that one doesn't realize where to draw the line.
— — — — — — — — — — — — — — — — — — — —
… if you need to play on people's weaknesses and make them your strength, you need to make them vulnerable. Fan their weakness. Seduce them with money, power and everything else that appeals to them. That's when their true character shows.
— — — — — — — — — — — — — — — — — — — —
… the moment I give a signal, fire! I will take the chance. And the responsibility.
Here are some hard-hitting facts of the present day, explored in the book quite convincingly.
Walking into the sunset of your life becomes more romantic if you can have the pleasures and comforts that come with a cushy posting.
— — — — — — — — — — — — — — — — — — — —
… business is not about longevity these days. It is all about maximum returns in minimum time. There is no premium for running a business which is moderately profitable for a long time. Stars are those who make a disproportionate profit in a short period of time.
— — — — — — — — — — — — — — — — — — — —
some lives are more precious than the others. Carlo Pinnnoti holds more secrets than any other living individual. Everyone, including our politicians, cutting across party lines, needs him.
The situation we see and the way it is seen by top-level (be it in management/administration or political system) are quite different. The author tries exploring the stuff from those top-level managements' perspective at various places:
'I think all he wants is to leave behind a legacy … the legacy of being independent. And that can only happen if he visibly goes against our will.'
'Leaving a legacy is not as important as creating history. And we are creating history here. We cannot allow him to derail our vision. His actions can drive our fate. Our country's progress depends on him. If he fucks up, we will be screwed.'
— — — — — — — — — — — — — — — — — — — —
While six hundred crores is not that big a sum, the fact it has come from hundreds of thousands of middle-class people will make it a very big problem.
The protagonist is not a perfect hero. Rather, he is a person with his own weaknesses. These vulnerabilities make the character realistic. In real life, things are mostly in shades of grey rather than being pure black or white.
The book is well-paced and there comes no time where you think of it as boring. The author's vocabulary is authentic and he has mostly used simple language (unless the use of jargon requited); it makes the book more readable.
The book has its own share of letdowns. Of course, we cannot include spoilers, but let me draw your attention towards some stuff which you may not miss.
Here is a proof-reading error:
'We are doing that, sirs' one of them replied.
Here, a gallantry award for Indian Armed Forces is referred with a typo:
Major Rajput was promoted and awarded a Vasisht Seva Medal for his bravery.
It should be "Vishisht" (or Visisht – not Vasisht).
The name "Biswaroop Datta" is mentioned as "Biswaroom Datta" in the story.
By these references now you can imagine the kind of writing you should expect in the book.
Summary:
Overall, a nice, well-paced thriller setup in the banking world. It will remind you of many political and non-political real-life incidents. Definitely worth going for.
ThinkerViews Rating:
Around 8 stars out of 10
Quick Purchase Links:
Over To You:
If you already have read the book do share your remarks and thoughts via comments below. Does this review help you in making your decision to buy or read the book? Do not forget to share this article with your friends over various social networks via Twitter, Facebook and others. And yes, you may like to subscribe to our RSS feeds and follow us on various Social networks to get latest updates for the site to land right in your mail box.