Recently I got a chance to read Durga writes to her father by known mythologist and speaker Devdutt Pattanaik. Devdutt Pattanaik is not only a scholar but he is a good book explorer too. The topic on which he writes or talks require a lot of research, especially reading of ancient Indian Literature. He then tries to put it together by mixing intelligence, wisdom, and modernity into the mythological tales. And, in most of the cases, people love his work(s).
Durga writes to her father is a fictional letter which Durga (the metaphor of a Goddess and thus obviously a girl/woman/lady) writes to her father. It is a sarcastic and hard-hitting take on many things including stupidity in the name of religion. For example:
Your people declared he does not like to mate, make babies with tears. Who teaches zoology in your schools? This is what happens when Saraswati is reduced to vocational training, rather than education.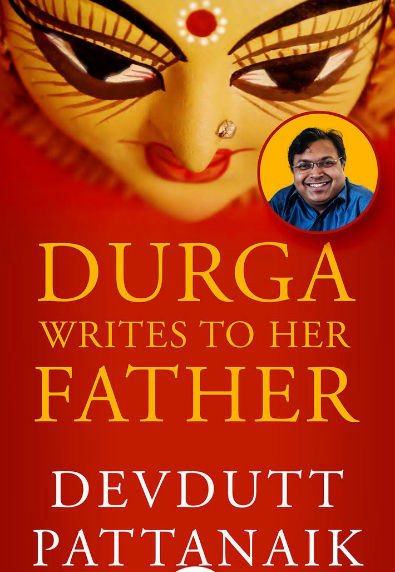 This could have given you the idea of what to expect in the book. The book is really a short read (as the name suggests) so I will not dive into the plot much. The letter (let us call it a letter, instead of a book) talks about many things including some of the issues we see in our contemporary times and some issues which exist since ages and it seems we, the mankind, is not keen to get rid of them.
Durga, while referring Lakshmi, tell that:
Everyone chases her, like wolves chasing a goat. But no one makes himself worthy of her, like a flower fragrant for the bee.
This is what I consider women empowerment in reality is. It is not about women wearing short dresses or shouting abusive words; it is about the mindset. Both men and women, instead of considering other as a second gender, respect each other and try being worthy of each other, then and then the society will remain balanced.
Devdutt also tries to represent his views about the basic needs of each human being on the ground of reality.
Why do your people glorify men who shun women, or deny women pleasure?
Now, some of us, who don't think logically, may be offended by it. But, if it is read logically, then it is something which is obvious. And yes, the book has some interesting takes on the stupidity spread in the name of modernity and excessive use of gadgets instead of the mind and the brain.
She complains that the stupid in your city feel smart because they have access to Twitter. Understanding self is now about uploading selfies.
I really wish that this sarcasm hit the nerve it intends to.
Durga is very clear in her vision and thoughts, obviously, and she is fearless when it comes to express her thoughts. And it should be like that only. The idea or "being eligible" is being "out of context" these days. People think that they are entitled to get what they want, by default. It is the wrong concept at the core. Unless and until we don't make ourselves eligible for something, how can we expect it? In short, we need to earn what we want.
Durga, clearly tells that:
If I want a man, I will face death and walk up a mountain for him. I will dance on him as Kali and wake him up until he satisfies me. But if I don't want him, whether he is Brahma or Bhairava, I will behead him.
So, as it is mentioned, the concent is the most important thing. We, despite considered as most intelligent species, see quite opposite examples in our history and they are even evident in modern days as well. Above lines showing the true spirit of Durga are not only to read but to digest.
The letter also talks about the way we conveniently use religion and/or resources in a way which suits the most to us. Talks about many traditional rituals and other stuff in the same context is mentioned pretty much effectively in this letter. Actually, telling more about it will not be spoiler free and that's why I need to stop here.
But, before we conclude, I must mention the wisdom and philosophical stuff found in this letter. Here is one such brilliant line:
Those I kill and those I love often merge into one.
Devdutt brilliantly weaved the ancient wisdom, feminism, contemporariness and sarcasm all into this small EBook.
It is worth to note that this short EBook is available to read for free on Juggernaut App. So, you have to pay nothing but the time to read it.
Summary:
Definitely a worth reading short letter. But, it must be read with an open mind and one needs to understand the sarcasm in it. It explores some of the brutal realities quite bluntly and read it only if you can digest it.
The essence of the letter, in Durga's own words…
I am tired of being taken for granted.
Over to you:
If you already have read the book do share your remarks and thoughts via comments below. Does this review help you in making your decision to buy or read the book? Do not forget to share this article with your friends over various social networks via Twitter, Facebook, Google Plus and others. And yes, you may like to subscribe to our RSS feeds and follow us on various Social networks to get latest updates for the site to land right in your mail box.