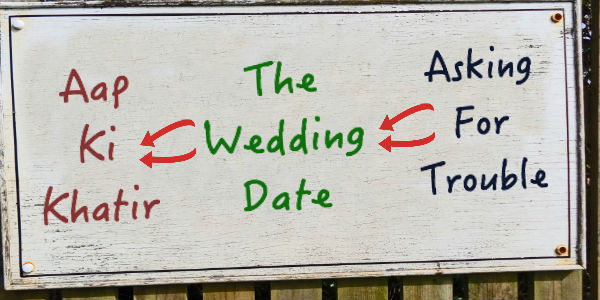 The way Bollywood movies take inspiration from international films has been a running joke for decades. There was a positive campaign of spotting copied scenes and sequences in Bollywood films once Indian cinema fans acquired access to internet and therefore movies all over the world. Sajid Khan hosted some really funny TV shows (like Kehne Mein Kya Harz Hai) in early 1990's when the cable TV had just made first appearance in India.
But then it is often hard to find a story idea that no one has used ever before, isn't it?
Introduction to the case study
One "not-so-old" example of this is Dharmesh Darshan's Aap ki Khatir. Starring Akshaye Khanna, Priyanka Chopra, Suniel Shetty and Amisha Patel, this movie was based on a 2005 American rom-com called The Wedding Date, which was in turn based on a chick-lit novel called "Asking for Trouble" by Elizabeth Young.
So, let's trace the story back to front…
Elizabeth young's Asking for Trouble features 30 year old Sophy, who is single – to the great annoyance and sorrow of her mother. So, she creates a boyfriend called "Dominic" – handsome, debonair, successful and non-existent. It works splendidly as long as Sophy stays away from the family, but her sister Belinda is getting married and she has to show up for the wedding, along with Dominic. In a desperate attempt to save face, she hires a male escort named Josh Carmichael to be her wedding date.
This however proves to be a start of a major trouble rather than a solution. Once they arrive to the wedding, Sophy's old life and old flame are back in full force. Every family has undercurrents of feelings, hidden emotions, sibling competitions and Sophy's family is no exception. In middle of all this, it doesn't help that Sophy begins to like his ruggedly handsome date and falls into a "leading to nowhere" romantic entanglement. Sophy, being the heroin of the book, deserves a happily-ever-after, but will she get it?
More such traces of Inspiration
The book is a hilarious and witty read itself if you like chick-lit and so was perfect to adapt as a light-weight American rom-com by director Clare Kilner (How to Deal and Something Borrowed fame). The movie was christened as The Wedding Date and starred Debra Messing (currently playing Laura in the Mysteries of Laura) and Durmot Mulroney. Durmot Mulroney also starred in My Best Friend's Wedding that inspired Mere yaar ki shadi hai and some such plots in Bollywood!!!!
This "inspiration" stories seem never-ending, isn't it?
Movie
:
The Wedding Date
Director
:
Produced by
:

Jessica Bendinger

,

Paul Brooks

,

Michelle Chydzik

,

Nathalie Marciano

Written by
:

Dana Fox

Based On
:

Asking for Trouble

by

Elizabeth Young

Music By
:

Blake Neely

Editor
:

Mary Finlay

Cinematography
:

Oliver Curtis

Production Company
:

Gold Circle Films

Distributed by
:

Universal Studios

Released On
:

4 Feb 2005

(UK)
Starring
:

Debra Messing

(Kat Ellis),

Dermot Mulroney

(Nick Mercer),

Amy Adams

(Amy Ellis),

Jeremy Sheffield

(Jeffrey),

Jack Davenport

(Edward Fletcher-Wooten),

Sarah Parish

(TJ),

Peter Egan

(Victor Ellis),

Holland Taylor

(Bunny),

Jolyon James

(Woody),

C. Gerod Harris

(Bike Messenger), and others…
Purchase Link(s)
:
Buy The Wedding Date from Amazon.com
Buy The Wedding Dat – book from Amazon Indiae
Buy The Wedding Date – Book from Flipkart.com
But, back to "The Wedding Date", the leading lady is called Kate Ellis who hires Nick Mercer to be her wedding date for her younger sister Amy (played by a a very vampishly made up Amy Adams). Kat's prime target is making best man Jeffrey, who happens to be her old boyfriend, jealous. Instead, she ends up falling for Nick herself. Add Amy's digressions with Jeffrey and the cocktail becomes disastrous. But, all is well that ends well.
Now, replace Debra Messing with Priyanka Chopra, Durmot Mulroney with Akshaye Khanna, Amy Adams with Amisha Patel and voila, you have got 2006 release "Aap ki Khatir". The script more or less is identical with the parents played by lovely Lilet Dubey and annoying Anupam Kher. Dino Morea plays Priyanka's old flame and Suniel Shetty plays Amisha's would be husband with a heart of gold.
Movie
:
Aap Ki Khatir
Director
:
Produced by
:

Ganesh Jain

,

Ratan Jain

Screenplay by
:

Sunil Munshi

Based On
:

Asking for Trouble

by

Elizabeth Young

Music By
:

Himesh Reshammiya

Editor
:

Raj Sinha

Cinematography
:

W B Rao

Distributed by
:

Venus Movies Pvt. Ltd.

Released On
:

25 Aug 2006

Starring
:

Akshaye Khanna

(Aman Mehra),

Priyanka chopra

(Anu Khanna),

Suniel Shetty

(Kunal Shah),

Ameesha Patel

(Shirani Khanna),

Anupam Kher

(Arjun Khanna),

Lilette Dubey

(Betty Khanna),

Tiku Talsania

(Praful Shah),

Dino Moria

(Danny Grover), and others…
Purchase Link(s)
:
Aap Ki Khatir @ Amazon.Com
Aap Ki Khatir @ Amazon India
Buy Aap Ki Khatir from Flipkart.com
Dharmesh Darshan never really could replicate what he achieved with Raja Hindustani and "Aap ki Khatir" was no exception. Based in London, it was targeting NRIs and did make decent money. The major selling point for the movie was Himesh Reshamiya's music, who was going through his "non-stop" hit era.
Final thoughts
If you do like chick-flicks, go ahead and watch "The Wedding Date" or read "Asking for Trouble"……
Have fun…..